Whether our goal is the increase of muscle mass, the maintenance of the existing one, or weight loss, understood as the loss of body fat, whether we are athletes practicing power or endurance sports, there are very specific quantities of protein to be taken. and they are based on body weight.
Because sportspeople need more protein than sedentary people
We always take into consideration that in our body there is a continuous protein turnover, that is, in the human body there is a constant presence of catabolism and anabolism, where by catabolism we mean destruction, while by anabolism we mean the exact opposite, that is the construction .
This is true both for sedentary people and for sportsmen, but with the difference that for those who practice sports, (of any type), the protein turnover is greater, and it is therefore necessary to increase the protein intake, in short, the sportsman must take more. proteins compared to those who do not practice sports.
Training induces catabolism, and to have an "anabolic protein balance", even if we should speak more correctly of positive nitrogen balance, it is necessary to introduce good amounts of protein.
Since the athlete is so called because he practices sport, that is, he trains, he needs a higher protein quota than those who do not train, to keep the nitrogen balance in positive, or in other words to ensure that the anabolic reactions (di construction), are greater than the catabolic ones.
Do not think that all this is due exclusively to muscle work, which in itself would be enough to justify a greater protein requirement.
In fact, it should be considered that the skeletal muscles are attached to the skeleton through the tendons, and that the tendons and bone tissue also undergo the stress of training, just like the joints and ligaments, and this exponentially increases the need to introduce more proteins from part of a sportsman compared to a sedentary.
Now let me clarify why I mentioned, in addition to the muscles, tendons, bones and ligaments:
When the muscles contract, long proteins fibers slide over each other, we are talking about thick filaments (Myosin) and thin filaments (Actin), Myosin and Actin are both proteins, and more precisely, Myosin is a protein motor, and the Actina is one protein globular in shape.
The proteins allow you to build the molecules that make up the tendons.
In the joints collagen, which is one protein, plays an important role in the good functionality of the cartilages.
With regard to bone tissue, it should first of all be pointed out that we must not make the big mistake of considering it as a rigid support structure. The cells that make up the bones undergo constant turnover. In fact, bone tissue is one of the most dynamic tissues in the human body, and is made up, in addition to cells, of a large matrix of nature protein.
In conclusion: the muscles, bones, tendons, ligaments are made up of proteins.
As if that were not enough, for the same body weight, those who practice sports have a greater muscle mass than a person who does not practice it.
Just to give an example, a sportsman with a body weight of 80 kg has a higher percentage of lean mass than a subject with the same body weight, but who does not carry out physical activity, and this also implies the athlete having to introduce more proteins. compared to the sedentary.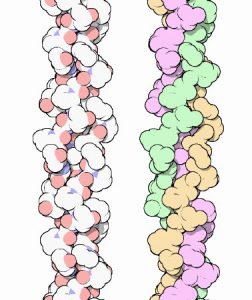 Fig. 1 - Graphic representation of collagen, which is made up of 3 amino acid chains, each made up of over 1,400 amino acids. These 3 chains are wrapped around each other forming a triple helix structure, collagen is a protein, and more precisely it is the most abundant protein in the human body.
Protein requirement of athletes
How much protein does an athlete need? It depends on the goal, and on the type of sport practiced: generally endurance athletes are advised to take 1.5 grams of protein per kg of body weight, this dosage ensures good muscle recovery, and the maintenance of lean mass. For strength / power athletes, the amount of protein to be introduced is 2 g per kg of body weight, which can even reach 2.2 g or even 2.5 g per kg of body weight, especially if the goal is to increase muscle mass.
It should be borne in mind that the quantities mentioned so far represent general indications, and that for sedentary patients the protein requirement is very different, in fact the SINU (Italian Society of Human Nutrition) reports the following LARN values (Reference Intake Levels for the Italian population in general) regarding proteins:
Males aged 15 to 17: 0.79 grams of protein per kg of body weight
Males aged 18 to 59: 0.71 grams of protein per kg of body weight
Females aged 15 to 17: 0.72 grams of protein per kg of body weight
Females aged 18 to 59: 0.71 grams of protein per kg of body weight
There are strength sports practitioners, such as some professional weightlifting athletes competing worldwide, who consume as much as 3.5 grams of protein per kg of body weight.
Obviously it is a dosage that is not recommended to be taken, and it must be reiterated that these are professional athletes, who train very intensely, who compete worldwide, who perform even more than one workout a day, and who are constantly followed by their team of experts.
Some professional Bodybuilders, including Italians, at certain times get to take 4 grams of protein per kg of body weight, and even in this case we strongly advise against taking it of such dosages.
Protein and sport: What science says
When we eat proteins, we stimulate our body to perform protein synthesis, but is this really the case?
Yes, and to confirm this, it is enough to consult a good text on biology or biochemistry, and rely on the various studies carried out over the years.
In this regard, there is a very interesting study (Borsheim et al 2002) led by Doctor Elisabet Borsheim, and which also involved researchers Kevin D. Tipton, Steven E. Wolf, Robert R. Wolfe.
In this study, a group of trained athletes, who underwent exercises with weights, were given 6 grams of essential amino acids in post work out, and thus a stimulation of 350% protein synthesis was obtained.
It goes without saying that amino acids are the basic unit of proteins, and that 6 g of essential amino acids are contained on average in a dosage ranging from 20 g to 30 g of high biological value proteins, such as hydrolysates. or whey isolates.
In diets for athletes, the distribution of macronutrients (proteins, fats, and carbohydrates) must always have proteins (the protein dosage) as a starting point, whether the goal is to increase muscle mass or keep it stable ... but we will talk about this in another article.
Read also: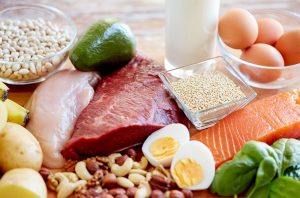 Proteins: biological value and protein sources